HUGE Mobile Sheet & Lumber Rack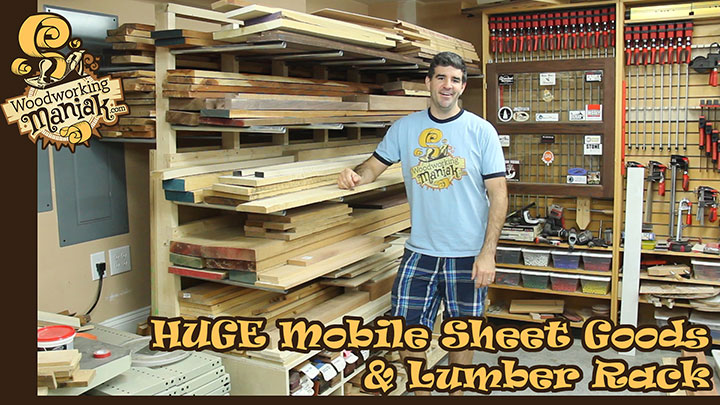 I have been needing to get my lumber in one place for a while now. I've had lumber stored in so many places around my shop for a long time. Now I have a large cart that holds a ton. Check out how I built it! 
To build the base, I started by cutting a 40″ strip of plywood and set that aside. This will make the overall footprint size of 40″ wide x 96″ long once assembled.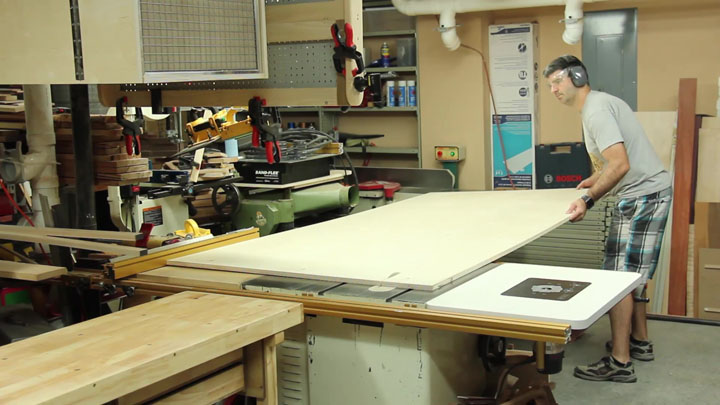 This is just angle of that cut… Cutting large sheets of plywood on my table saw without any sort of infeed support or and outfeed table is quite a chore. I ended up putting my workbench up against my saw to use as an outfeed table for this project because of working with these long cuts.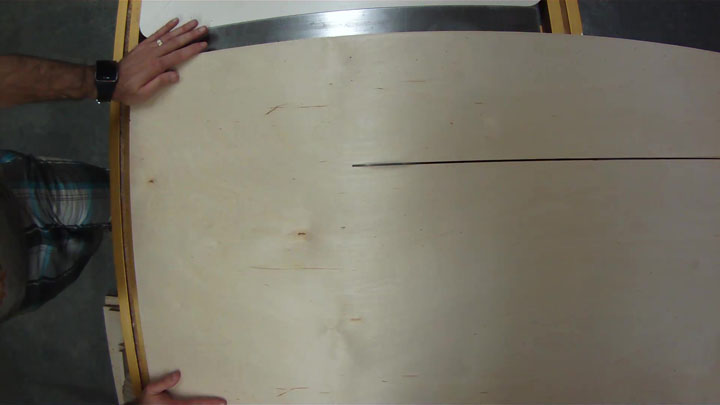 Next, from the strip that was left over, I cut off a 1″ strip to use later as a foot for the plywood storage area.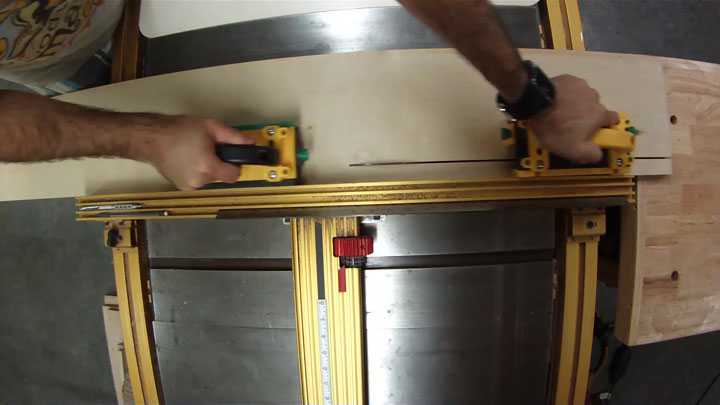 Because pretty much all commercial grade lumber you buy from big box stores are not all that consistant in size, I decided to joint the edges.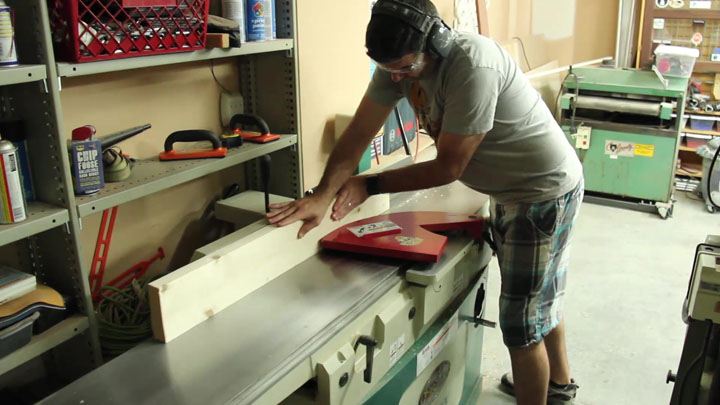 Just like I would normally do, I had already cut the boards down to rough length. With the board jointed on one edge, I made all of my 2x6s 5 1/4″ wide and all of the 2x4s 3 1/4″ wide.
Currently, because I'm currently in a bit of a shop-transition phase… I have not assembled my new dust collector and ductwork yet. So my jointer is just creating a nice pile of shavings.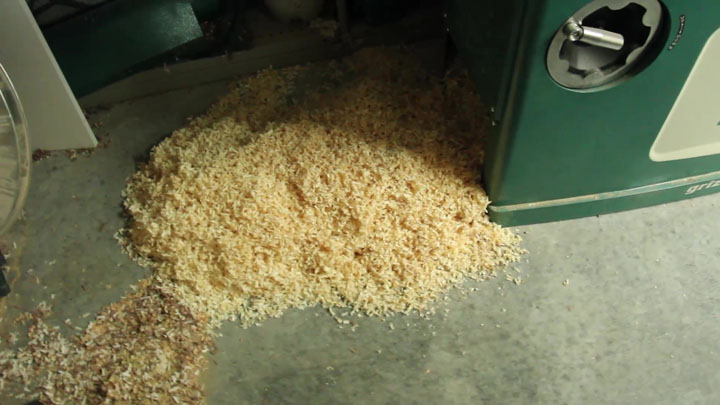 I setup a stop block toward the end of my fence at the length I wanted to cut in for the top rack storage above the sheet goods. Because I had the sheet goods portion set back at around a 5 degree angle, I needed this cut to be here so there would be enough lumber to support the upper racks.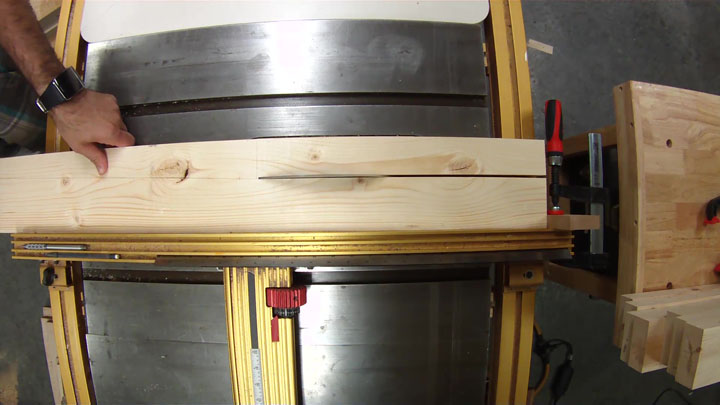 Then I used my taper sled to cut the angles from the corner down to my other cut line.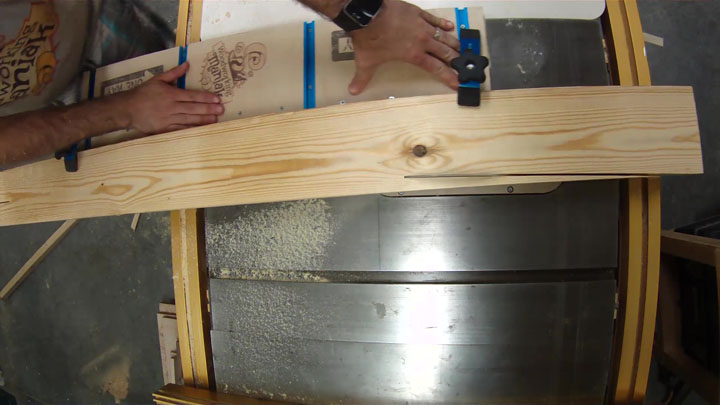 Then I used a hand saw to finish up the cuts that the round table saw blade couldn't match up…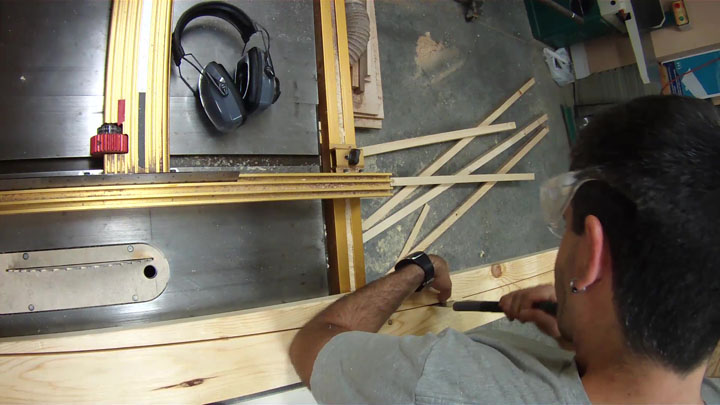 Now, this step is one that I should have done before cutting the previous angle. I had planned to do so, but had already gotten into the process of the angles and forgot about drilling the holes until I had already started…
Using a forstner bit, I drilled holes to allow 3/4″ EMT conduit to fit 2 3/4″ deep into the wood. This will provide plenty support for a lot of weight.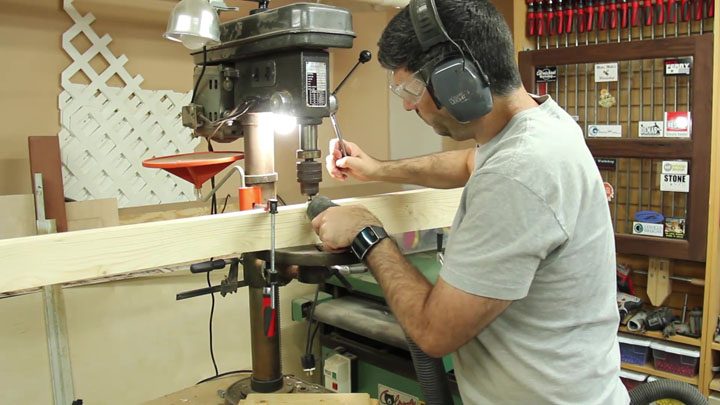 I attached a scrap piece of 2×6 that I jointed the bottom of to my miter gauge. With my dado stack cutting at the widest I have, I cut a zero clearance strip through that 2×6.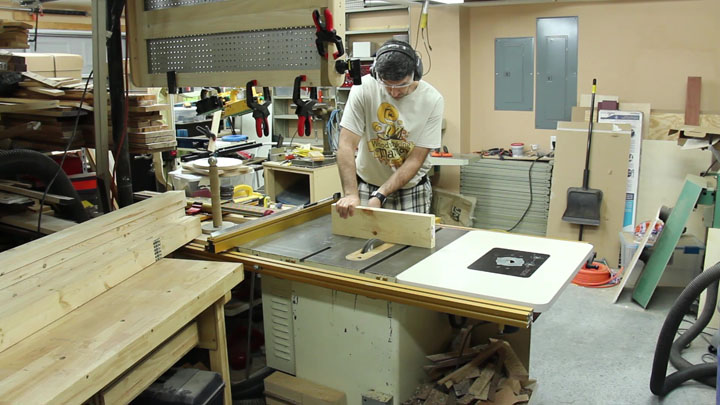 This allowed me to use either side of that to reference and cut large dados out of the vertical stretchers.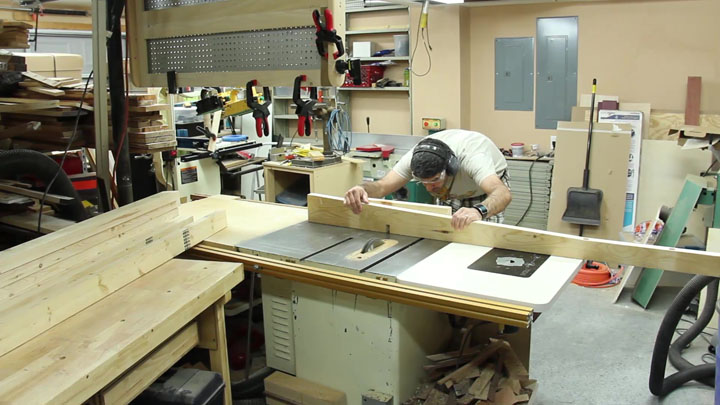 Here is an overhead view of this cutting process.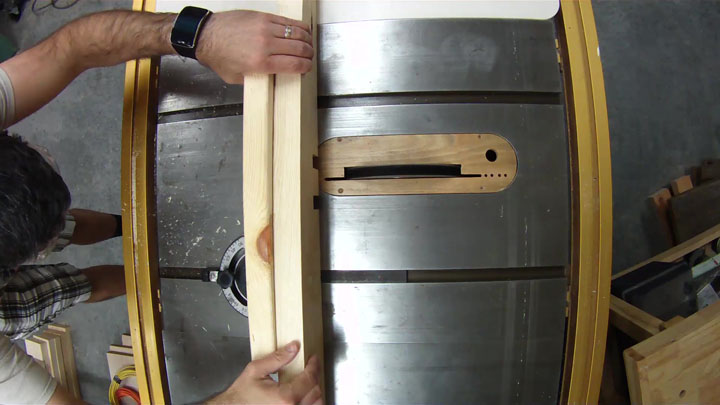 Here you can see the line that I had drawn on my board to be cut. I needed to side the board all the way to the right to clear out all the material to the left of that line.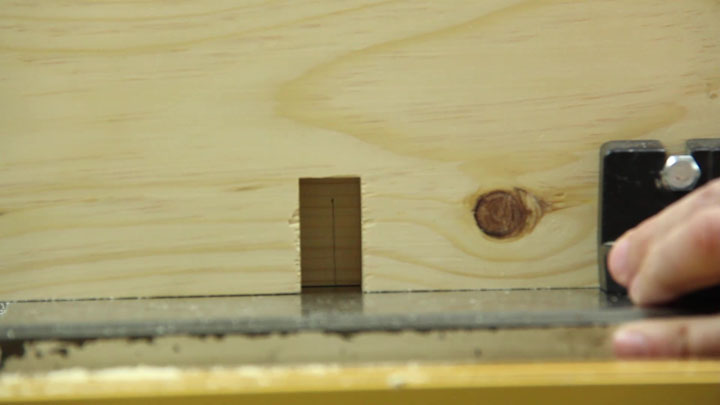 Let the chips fly! I just thought this was a pretty cool view of the chips flying at the camera…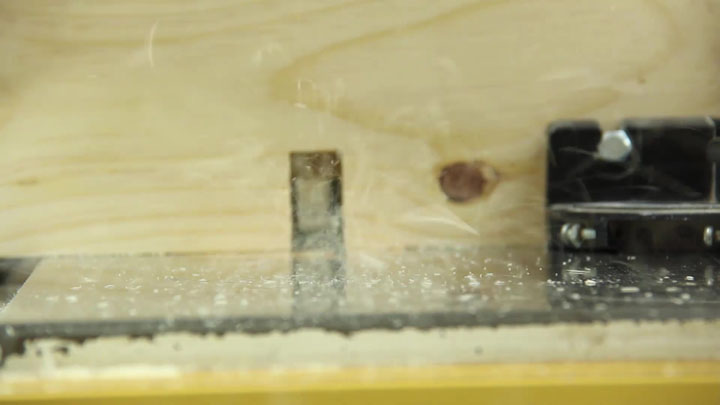 I did the same process for cutting large dados for the stretchers for under the base.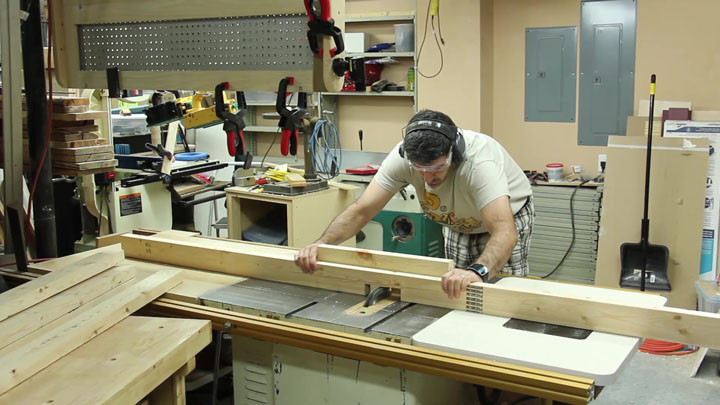 Now to get started on the base storage. I cut a long strips of plywood at 22″ wide to make the vertical panels.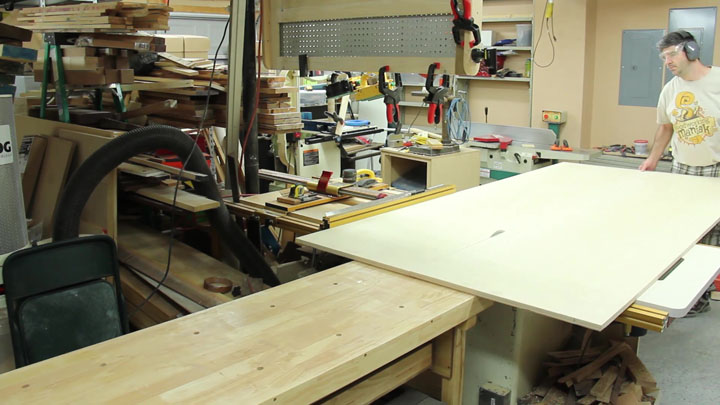 I then cut 7 of those panels all at 16″.  I also cut 5 shelves at 15 1/2″. This left me one shelf short, but I did that on purpose… We'll get to that in a bit.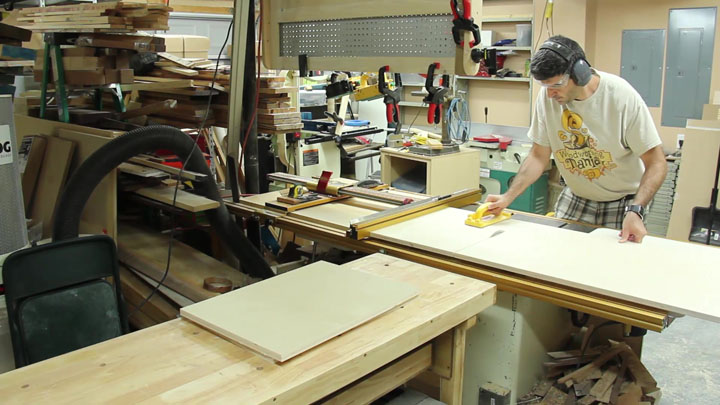 I then proceeded to cut a dado 1/4″ deep into the center on both sides of these panels. Two of the them only got a dado on one side because they will be the end panels.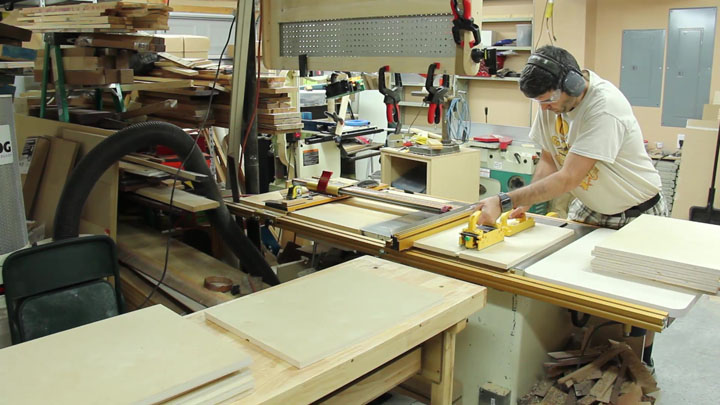 I setup my Kreg Jig® K5 and drilled pocket holes on one side of each of the panels.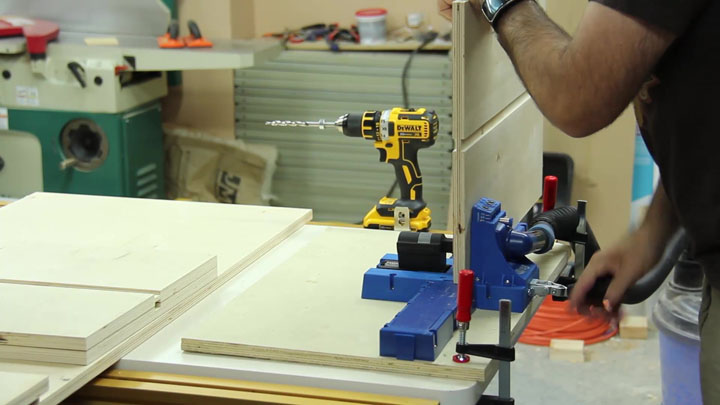 I only put the pocket holes on one side, so I could move my way down one by one adding a shelf and a panel.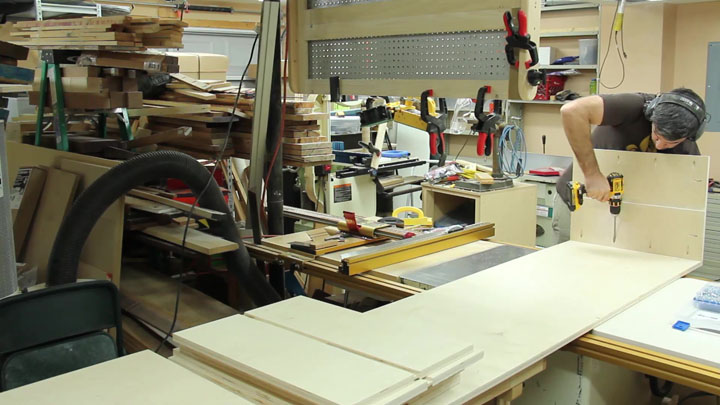 Here I'm adding the second panel and squaring it up.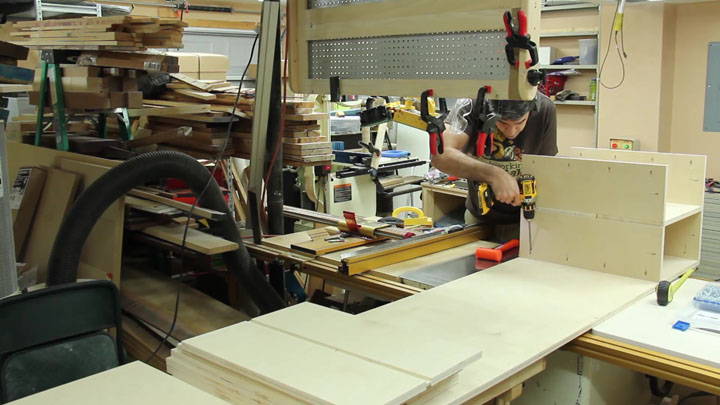 This process went very smooth and before I knew it I had all the panels in except the last one. I knew that the dados, not exact 3/4″ thickness of plywood, etc wouldn't give me an exact measurement to know for the final panel until assembly. So it was at this point that I measured to see how wide I needed to cut this shelf.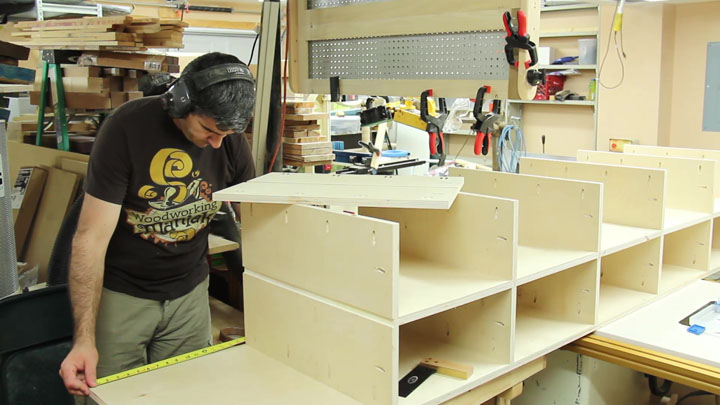 A quick cut at the table saw and I had the correct size shelf to fit into place.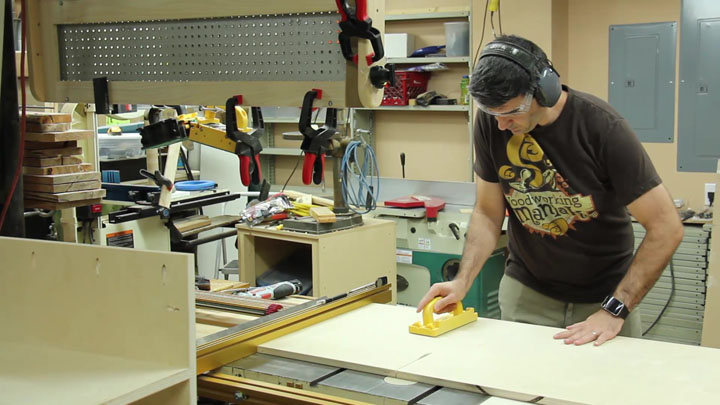 With a few final taps I was ready to put in the last few screws into the top!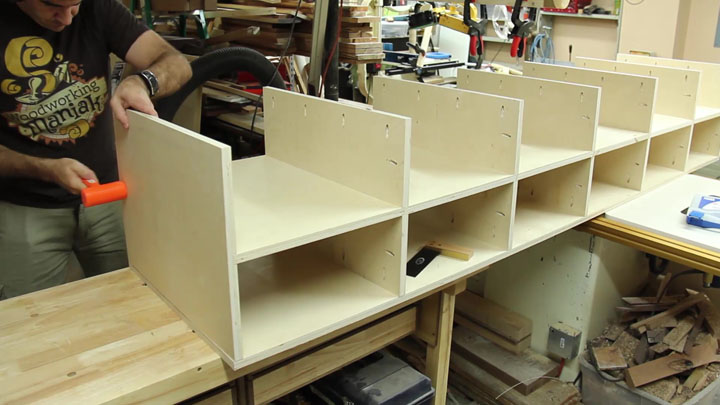 Then I brought over the 40″ wide bottom I cut at the beginning and flipped this assembly over onto it. Lined up to the front edge and screwed it into place using the pocket screws.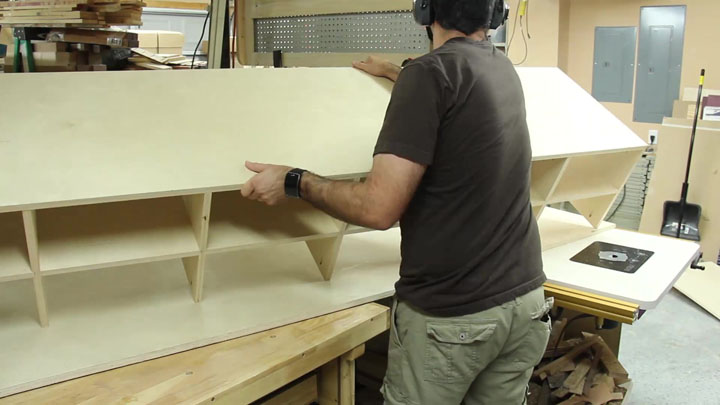 I moved it down to the floor and started putting on the vertical stretchers.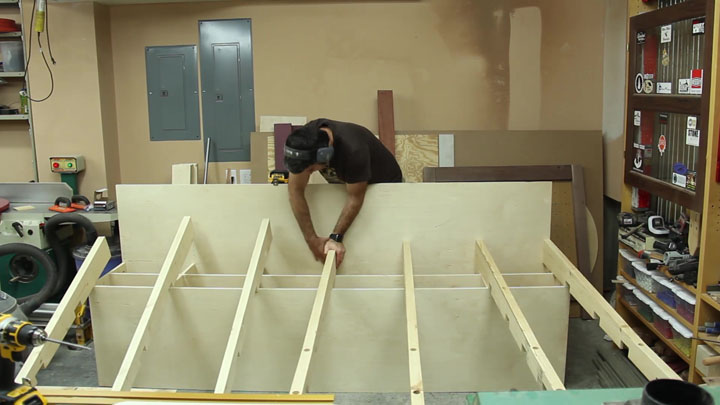 I lined them up with on side and inserted 3″ deck screws from the bottom. And also used pocket screws from each of the panels.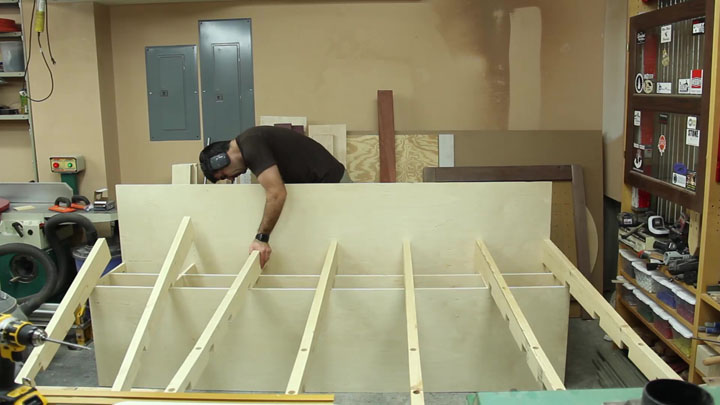 I placed the 2×6 cross members that will support the casters. I wanted these to go all the way across the assembly for added structure.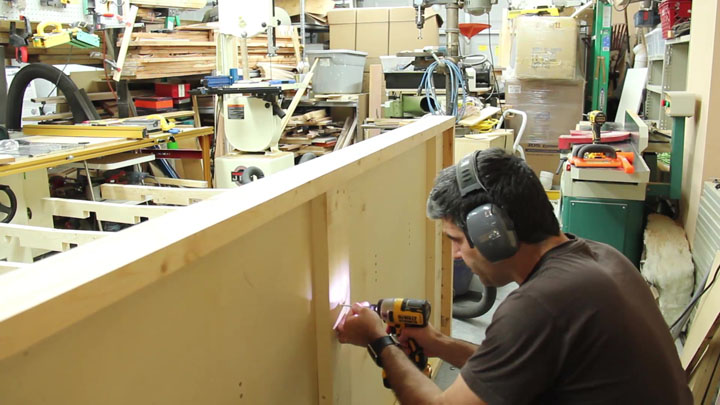 I bolted on 6 4″ casters that I later replaced with 5″ solid metal casters. After putting a couple thousand pounds of wood on this cart, these smaller casters didn't do the job…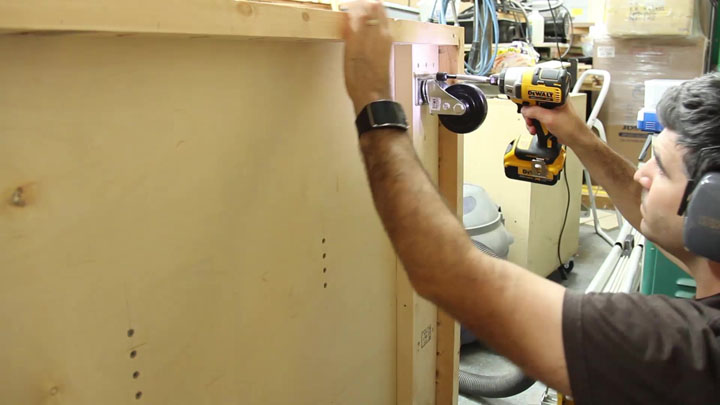 I screwed in all of the 2×4 cross supports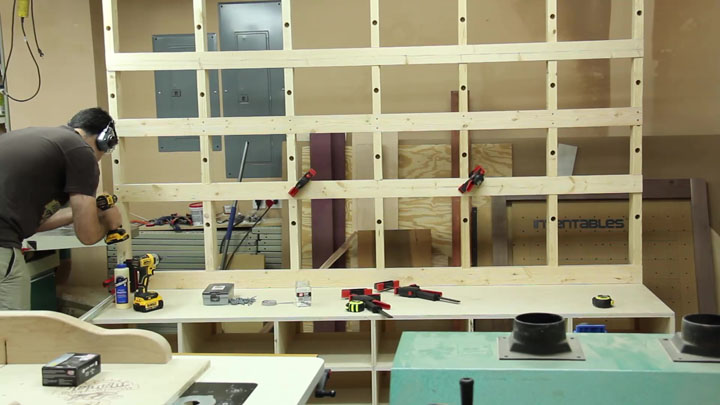 I used a sheet of MDF to line the sheet goods side of the cart. However, MDF comes in a length of 97″. I built the cart to be 96″ long and I didn't want the MDF to overhang, so I used an edge guide and a skil saw to cut off an inch of material. Dusty dusty mess…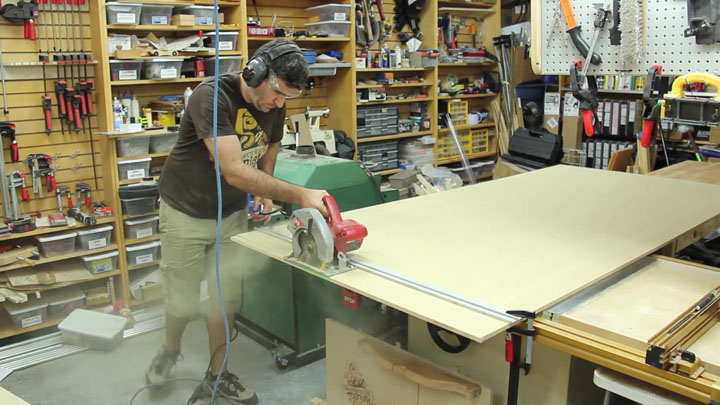 I then attached the MDF to the stretchers and countersunk the screws so the heads wouldn't touch any sheet goods placed on the cart.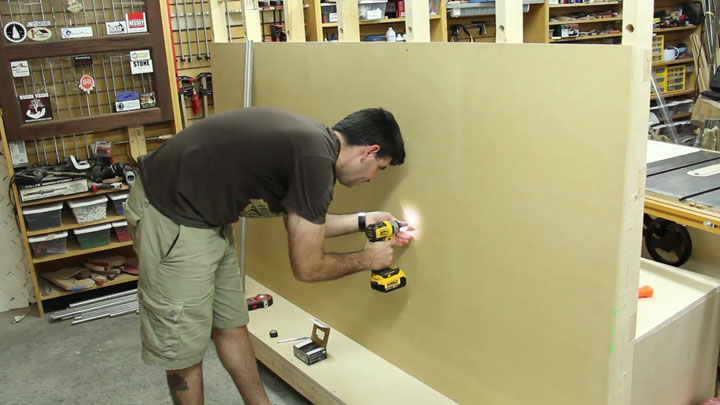 I used a portable band saw to cut the EMT tubing. It sure made the job a lot faster than using a hacksaw…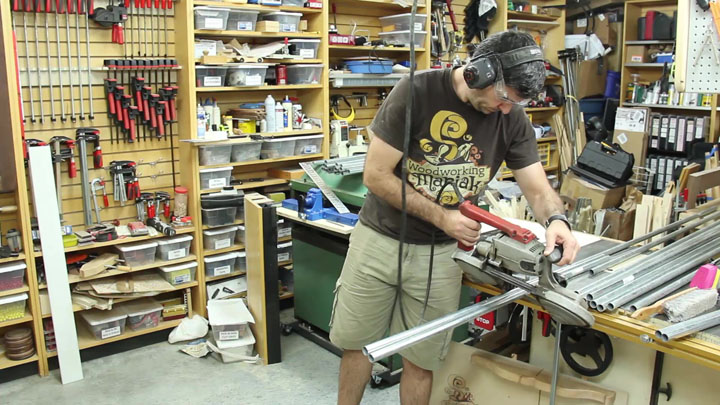 I cleaned up the rough edges of the EMT with a file.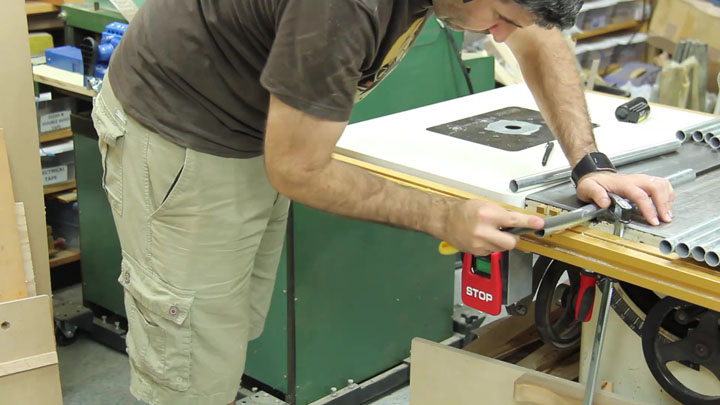 42 bars of EMT conduit used to provide plenty rack lumber storage on this cart.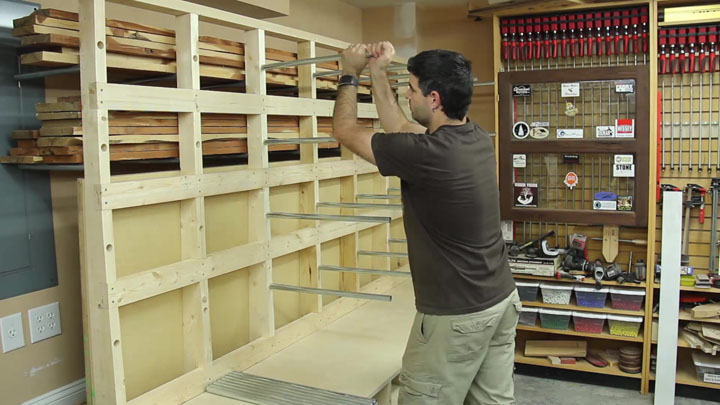 And here it is! Complete!